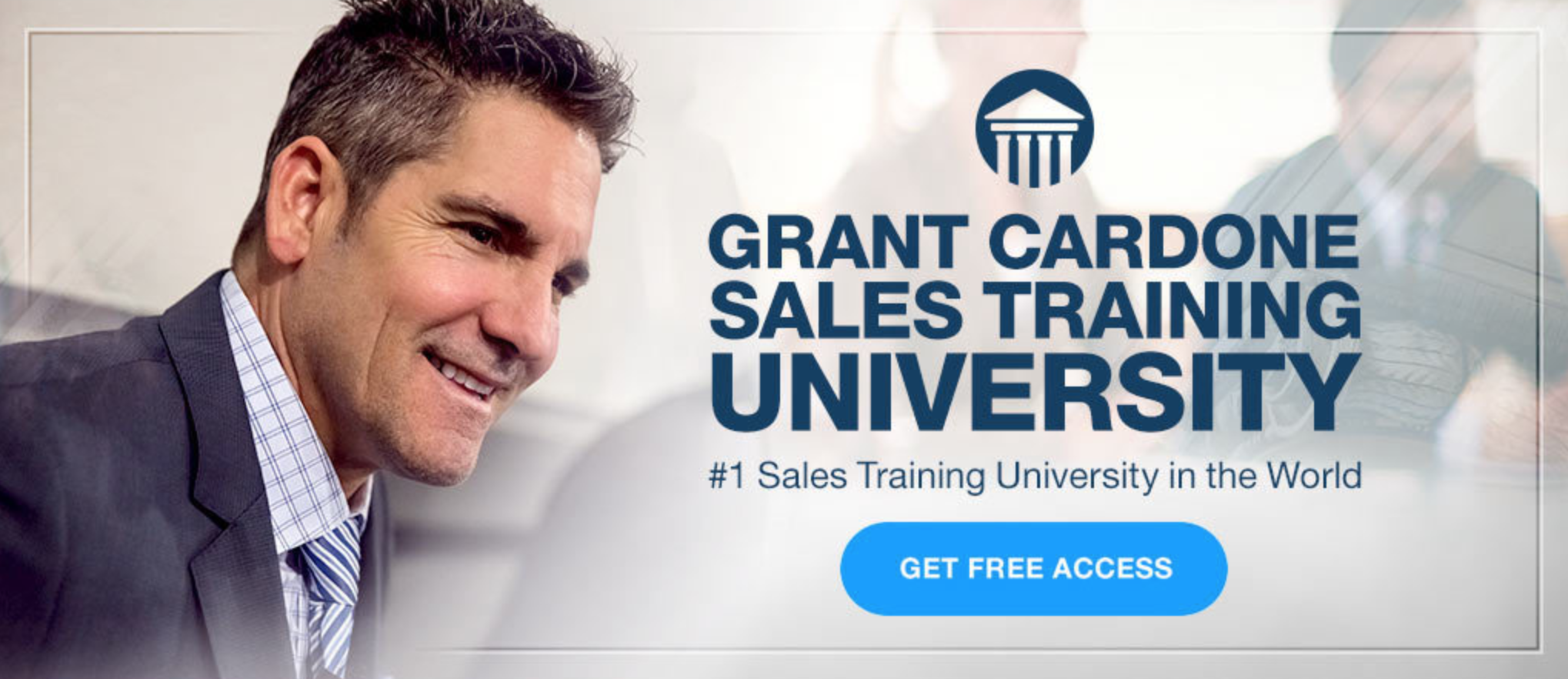 Cardone University FAQ
Many of our fans and clients on social media have been asking us questions about Cardone University, so we wanted to answer some of them for you today with a short Cardone University FAQ:
"WILL CARDONE UNIVERSITY WORK FOR ME IF I DON'T HAVE A BUSINESS?"
YES!  You don't need to own a business to benefit from Cardone University. We will show you exactly how to become even more valuable inside the company you work with.
And as you become more valuable by bringing in more sales and revenue to your company, you'll quickly start earning more or you'll find opportunities with other companies where you will be compensated higher for your new talents.
"I NEED TO GET RICH QUICK. WILL CARDONE U HELP?"
Look, many people have made A LOT of money pretty quickly from training on Cardone University, but every user experience is different. The reality is, Grant wants you to get wealthy, not just rich.
This usually takes time, but it can be done quicker than you think. Ultimately, we can't guarantee you anything.  Your income will depend on what you're selling, if you're in a position to make commissions or not, your attitude, work ethic, and a host of other factors.  The real answer is, it's totally up to you.
"HOW IS CARDONE UNIVERSITY DIFFERENT FROM OTHER ONLINE COURSES ON THE MARKET?"
This platform has been used by thousands of businesses, including Fortune 500 companies. It's not just a single course, it's the most comprehensive online business training platform in the world with over 1500 interactive video lessons. You'll find detailed material on prospecting, selling, closing, and more.
The number one difference between Cardone University and other online courses is Cardone University gets used.  Over 45 MILLION times, managers and sales people from all over the world have come to Cardone University to get an answer, a solution and to solve problems.  Solutions that wind up skyrocketing the top line of their business, increasing revenue and maxing out potential.
Additionally, with that much activity, we have been able to extrapolate the perfect process for using and training with Cardone University.
"I'M A BUSINESS OWNER, WILL THIS HELP MY TEAM?"
Currently we have two versions of the Cardone University platform available.  One is for the single user who's company does not offer a structured, formal training program.  Our team platform has been designed specifically to be used by a company.  Here's a couple stats about companies in today's market:
82% of managers and CEOs report being too busy to train, motivate and develop their team the way the know they should.
73% of all employees are disengaged.
Hiring the wrong people results in turnover costs of up to $36,000 per person in missed opportunities and poor customer experience.
90% of salespeople have never read a book on sales
72% of salespeople engaged by a customer never even ask for the order
Cardone University is designed to solve every one of these issues and more.  It literally helps management create the time to train and develop their team and get everyone engaged.  Cardone U will help you hire and onboard people correctly massively reducing costly turnover.  Cardone University educates salespeople in the way they want to learn and train by delivering real time solutions first.
If you're a leader in your organization, we'd like to offer you a 7-day complementary trial to Cardone University.  We will show you how our best clients use Cardone University to create production increases over 30% in 90 days.  Also, we'll go over Grant's proprietary sales training process.  This process increases sales with or without Cardone U.  It's just that Cardone U makes implementing the process really easy.
Has this Cardone University FAQ been helpful?  Let us know.  Also, not sure what an extra 30% in 90 days would do for your business, but would be an incredible waste of your time to get lean more about Cardone University, try it out with your team and see if it's something you can use as well?