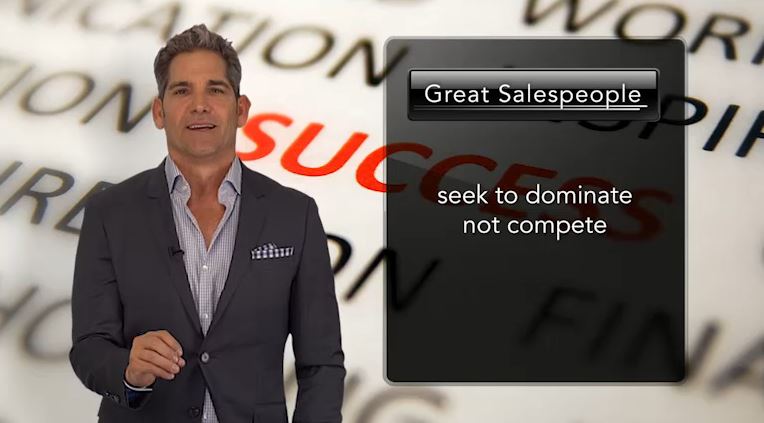 The Great Salespeople seek to dominate not compete.
You want to seek to dominate, not compete.  For the GREATS, competition is a sick word, meaning, not healthy.  That kind of sick.
The Greats want to separate themselves from the pack.  Way out front.  Way out!  Past the second, past the third, WAY OUT in front.  They're not even in the same race as them anymore.
You want to dominate so much that other people literally just give up.
You want to be the only person on the field!
The Greats don't play fair either.
They're ethical – but not fair!
Be the only one on the field because you've done ALL the other things to separate yourself.
Seek To Dominate Not Compete!
OWN THE SPACE!  BE THE ONLY PLAYER!  DO WHAT OTHERS REFUSE TO DO!  This is what it takes to not have to compete anymore.
EXERCISE:  Make a list of 5 companies who dominate their market.  Then make a list of 5 athletes who dominate their game.  Then make a list of five successful business people who dominate in their field.
CHALLENGE:  How do they do it?  What can you learn from them and how can you incorporate these strategies into your company and business.
Remember, BE GREAT, because nothing else pays…  Knowing the basics of selling is one thing, but knowing how to market yourself, your business and services so you can dominate your space is another level entirely. To keep that pipeline full, you must get known and expand so even more people know who you are and what you have to offer. You must learn how to get attention, hold attention and convert and be the person who sees opportunity to solve problems. In this high-energy, captivating, one-hour program, sales master and successful self-made multimillionaire entrepreneur Grant Cardone teaches you how to gain more attention, pump up your attitude, expand your goals, overcome objections and position yourself as the "go-to" expert in your space.