Think and Grow Rich: The Legacy to Feature Grant Cardone
LOS ANGELES, CA (PRWEB) SEPTEMBER 26, 2017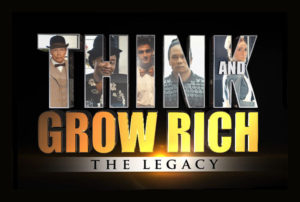 The film shares personal journeys of rising above circumstance and how iconic author Napoleon Hill's timeless principles can help one achieve ultimate success.
Think and Grow Rich: The Legacy unlocks the eminent significance behind the bestselling self-help book of all time, Think and Grow Rich, and reveals the global impact it has created. Many of world's most notable people have been deeply influenced by its philosophy including Bill Gates, Michael Jordan, Elon Musk, Tony Robbins and Oprah Winfrey.
Originally published in 1937, Think and Grow Rich was the result of a 25-year journey where Hill discovered that that those who succeed in any industry do so irrespective of their circumstance, that potential is not predicated on age, race, education, gender, finances or any other perceived disadvantage.
Think and Grow Rich ignited a flame of ambition, and helped end the Great Depression.
One hundred million copies and 80 years later, it remains the best-selling book of all time and continues to inspire ordinary people to extraordinary achievement. It is the playbook through which countless innovators unlock their potential, creating an alternate reality of abundance, purpose and prosperity.
Directed by Scott Cervine (The Shadow Effect), Think and Grow Rich: The Legacy captivates viewers with dramatic vignettes that bring the stories from Think and Grow Rich to life in gripping detail. These stories show how Hill's principles of success remain true to this day and more relevant than ever.
"The book THINK AND GROW RICH has inspired millions to come face to face with their very best selves," explains Cervine. "That's why it has stood the test of time. It literally invites you to look deep inside and discover the miraculous nature of who you are. Capturing those elements in a film and putting them on the big screen is a lifelong dream come true for me."
The cast features a 'who's who' of renowned personalities and business leaders from around the world…
…including Rob Dyrdek (entrepreneur), Tim Storey (bestselling author), Barbara Corcoran (venture capitalist), Grant Cardone (property mogul), Bob Proctor (self-help guru), Warren Moon (Hall of Fame quarterback), Lewis Howes (School of Greatness founder), and many more.
Think and Grow Rich: The Legacy is written by Cynthia Whitcomb (Buffalo Girls, I Know My First Name Is Steven) and produced by Sean Donovan, Karina Donovan and Joel Franco.
Think Rich Films will release Think and Grow Rich: The Legacy on Saturday, October 14th at a public premiere at Regal LA LIVE (1000 W Olympic) followed by a Q & A with select cast members. A digital download will be available for $29.99 at http://www.TAGRmovie.com in addition to a limited number of premiere tickets.
On Saturday, December 2nd, Think Rich Films will also host Think and Grow Rich: LIVE in Atlanta, where specially handpicked speakers will share their their own inspirational stories based on Hill's principles. The event will be streamed live internationally.
For more information on Think and Grow Rich: The Legacy, please visit http://www.thinkthelegacy.com.