The Reasons Why You Don't Close Deals
Why aren't you closing more deals?  Do you ever feel more like an order taker than a salesperson?  Do you ever feel like you've let the customer down by not closing them?  In this episode of Young Hustlers, Grant takes us on a deep dive into the art and science of the close.  The content delivered in this segment is highly advanced closing material and may even seem counter-intuitive to the classically trained salesperson.
What is the #1 reason you aren't closing your customers?  If you want to know the main reason why you don't close deals it's because you don't ask.  87% of salespeople miss their quota.  Mainly that's because they're not trained and there's a majority of sales people scratching their head right now because they're expecting the buyer to just say, "I'll take it!"
If you don't set the close up and if you don't ask for it, you'll never get the big numbers and you'll never reach your true potential.
#1—Tell them your intention.
Your intention is to close, so let them know it!  This is about setting the mood.
#2—Tell them there are only 2 reasons you won't do this.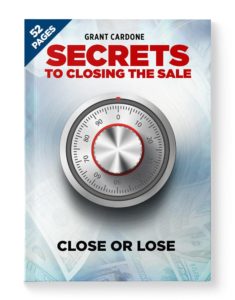 You want to tell them their objections before they even say them.
"Sir/ma'am, there's only two reasons why you won't do this with me today.  The first is that you don't think my solution will work or  solve your problem and the second one is that you aren't the final decision maker.
People who don't have the money aren't the decision maker because they don't have the money to even decide!
There's actually only one real reason people don't buy—it's a lack of certainty.  Those two reasons above are both about certainty.
To learn more about closing, get on Grant Cardone's Secrets To Closing The Sale Mp3 and Workbook