How to Gain Attention On Young Hustlers
On this episode of Young Hustlers, Grant and Jarrod offer Millennials tips for getting attention in business.
How to Gain Attention On Young Hustlers
The great news is businesses are hiring.  The even better than great news is, even if you're not a Millennial, you can still use these three steps to stand out, get attention and grow your business.
Success in hiring, as in success in business, means you must get attention and set yourself apart in the marketplace.  For the people who already have jobs, this means you must promote your value within your organization.  Grant and Jarrod start this episode off by going over the fact that money follows attention.  They also dig into why you must have a 'whatever it takes' attitude and how important it is that you do what others refuse to do. Jarrod shares a couple examples such as arriving early and staying late, thinking like the owner and bringing in ideas that meets the business' objectives and purpose.
Specifically Grant offers these 3 Steps on How to Get Attention
Make yourself known.
Deliver what is needed.
Improve yourself every day.
Grant and Jarrod then take callers with questions about standing out despite being young, how to get attention to expand their business and how to advance to the next level.
For the full show How to Gain Attention On Young Hustlers  ttp://witnation.com/video/younghustl…
GrantCardone.com
http://www.grantcardone.com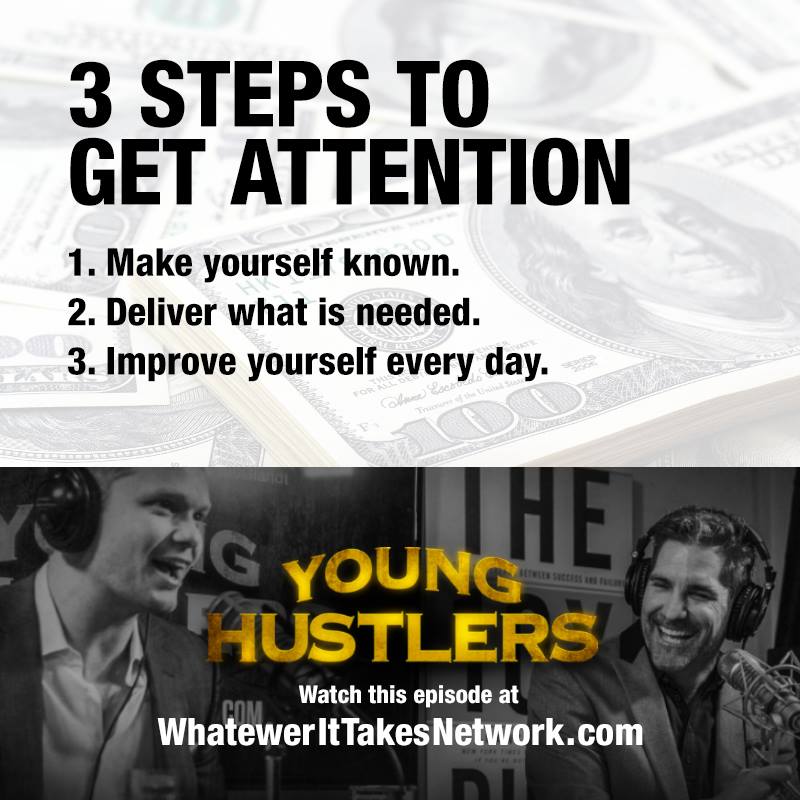 How To Gain Attention
If this episode wasn't enough and you need more on how to get attention, making yourself known, delivering what is needed and improving yourself every day, pick up If You're Not First You're Last.  This is Grant's NY Times Best Seller with proven strategies on how to dominate your market and become first in your client's mind.  The mp3 will literally have Grant coaching you every step of the way along your road to domination.