View this post on Instagram
When you don't like your job…
Have you ever been in a job you hate?  Every second you're getting ready for work is painful and agonizing.  You're thinking things like:
"Man, how did I get here?  I gotta find a better gig here."
"Today's the day, this is it, I'm quitting today, screw these guys!"
"If we have to have another dumbass meeting about absolutely nothing, I swear to gawd I will jump on that cheap ass conference table and start doing a Haka dance."
"I wonder if I could I punched my manager in the face on payday and claim self defence
"Yeah, but would I still be able to claim unemployment?"
So, here's your Grant Cardone Quote of the Day via Instagram:
Got a job you don't like?  Show up and be great at it.  You don't need to like your job.  My whole life turned around when I quit looking for the perfect situation and said, hey I'm gonna make the most out of every situation.  So, I'm gonna show up. I'm an introvert, I'm showing up, I'm gonna light up. I'm gonna light up; everybody's gonna know I'm here.  And I don't need to be noisy and boisterous but I need to be productive and I need to be successful. So, I can either be noisy… 'HaHaHa" or I can be noisy because I put points on the board. Now I happen to be like, noisy and put points on the board."
4 ACTION IDEAS for when you don't like your job: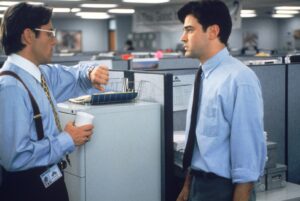 STEP ONE:  Get great at it.
Get great at it???  How the eff am I supposed to do that?  I just told you, I'm dying over here!  Listen, if you, like me, have been in a job you hate and all you want to do is get out, how do you shift your think and get great at the thing you absolutely hate?
Look, here's the reality, it's not the job itself is it?  It's going to be something else or someone else?  Watch I'll prove it to you.
What do you actually like about your job?  Why did you pick that job?  Answer this question…  for real.
So, what is not working now?  Identify the exact reasons you hate your job now.
When?  When did this start happening?
Who (or what) started it?
At some point, you became unsold.  Unsold on you, unsold on the product or unsold on the company.  This is straight out of Sell Or Be Sold.
STEP TWO:  Commit.
Commit to today.  Forget about yesterday, don't worry about tomorrow, go all in today.  All these feeling you're having have nothing to do with the present moment.  They are all coming from past experiences and imaginings about the future.  Get yourself in this moment and just for today, go all in. Remember that your attitude is a choice. What you focus on is what you attract and create.  So today, focus on making it a great day and allow no one or no thing to stop that.
STEP THREE:  Train.
You can't get great at something that you're not proficient and efficient at.  Think about someone who's great at their craft?  At some point you can't just chalk it up to talent or genetics or whatever excuse you want to come up with to make sense of YOU not putting in the work.  So every morning before you get in front of a customer, practice, drill rehearse and warm up.
STEP FOUR:  Put points on the board.
Speaking of Sell Or Be Sold, Grant says this in that book as well, "production yields happiness."  So when you don't like your job, you're probably not producing either.  Catch-22?  Maybe.  But what would happen if you DID increase your production?  What's happening by you staying this course everyday?  What does a perfect day at work look like for you anyway?  Have you ever thought about that?  Why not make that your reality instead of whatever you got going on right now?
The Final Word from Uncle G:  Before you quit something, get great at it!
ATTENTION SALES MANAGERS:  If you have a sales team, how many of your people are working through any of this right now?  Or, are you thinking about quitting?  Before you do, I want you to look at Cardone University.  We have tools inside that can reduce turnover, help you find better people while leveling up the ones worth keeping AND get you what you need to get great at being a leader.  Visit https://cardonesolutions.com/10xyourteam for more information about Cardone U, sign yourself up for free access and to see four free leadership training videos.