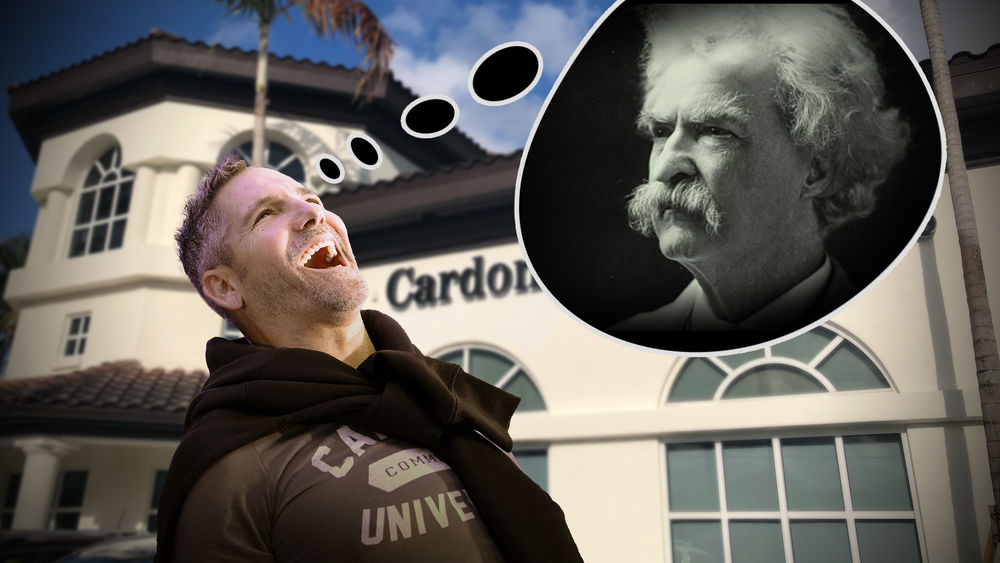 Speculation Dangers and Mark Twain
History. You want to know it so you can duplicate what works and that you don't repeat what doesn't.  That would be your history and the history of others.
[CLICK HERE to listen to The Cardone Solutions podcast episode about Hoover and haters]
Grant Cardone's latest Strategy of the Week opens with this…
"Let's dive into history again this week and find out what made Mark Twain a terrible businessman and investor even though he was a brilliant writer."
Remember last week we looked at Herbert Hoover, how he got hated on, foreshadowing current events and finished with how you should handle haters.
Going back to Mark Twain, we see that he had reached a level of success that most Americans, even today, will only dream about and envy.  His books were best selling, poignant and incredibly well woven within the American fabric.  He also married well, meaning his wife's family we loaded.  Mrs Twain's father had done incredibly well in the coal industry.
Now, here comes the speculation dangers and Mark Twain part
Twain's life-changing financial losses came from speculation.  This is venture capital gone bad.  Beginning in 1880 Twain drops about $7 million in today's dollars on investing in the Paige typesetting machine.  He thought this device was going to replace human typesetters, and he told the press, "It can do anything a human could, except drink, swear, and go on strike."
The problem was, the machine never worked that well.  As it often happens, new technologies can be buggy and new tech is high risk.  Unfortunately for Twain, the Paige typesetting machine never turned a profit.
Even more speculation dangers!
Twain also lost money on…
an engraving process
a magnetic telegraph
a steam pulley
the Fredonia Watch Company
railroad stocks
He was making a bunch of money and then promptly LOSING a bunch of money.
REMEMBER, PER GC, THERE ARE 3 STEPS TO WEALTH:
Earn a high income
Keep it
Multiply it
Twain did well with #1 but couldn't do #2 and epic failed at the multiply part
Later in life, as he began to learn he said,
There are two times in a man's life when he should NOT speculate: when he can't afford it and when he can."
The keyword here is SPECULATE.
And to add insult to injury, Twain winds up passing on the biggest money making opportunity of his life when he considered investing in Alexander Graham Bell's telephone…  but decided to pass on it.  He says, "I don't want anything more to do with wildcat speculation."
[ACTION IDEA:  What can we learn from this?  How can we apply it to our lives right now?  When have YOU speculated, got burned and lost?  How is that loss keeping from creating and investing in your future?]
In my world, I see something like this everyday.  The #1 reason a business owner doesn't put their people on our online training is because they don't believe their people will actually use it.  And where did this belief come from?  More often than not, it's because of something similar that they tried (speculated) in the past and it failed.  And they allow that loss to prevent them from making the smart and wise investment that is ongoing training and development of salespeople.
A study conducted by the professional services company Accenture [source] found effectively combining training, coaching, analytics and content to ensure reps are properly equipped to close the sale, that every dollar a company invests in training, they receive about a 353% ROI.
We have companies and sale teams on Cardone University picking up 209% YOY [source] in revenue and 30% sales increases [source] in as little as 6 weeks.
Ask Uncle G what Mark Twain's problem was…
"The problem wasn't him going ALL IN…  The problem was he just went all-in on the wrong thing."
Contrary to popular opinion, diversification is NOT a positive thing when it comes to multiplying your money.  Grant has put ALL his money into one asset class—and it's making him a billionaire.
Meanwhile, just twisting the knife, Twain's neighbor bought $5K worth of stock from Alexander Graham Bell and soon, this guys was rolling in the dough with the biggest jackpot of his life.
Twain said this about that situation:
"It is strange the way the ignorant and inexperienced so often and so undeservedly succeed when the informed and the experienced fail."
[ACTION IDEA:  OK, before wrapping this up, let's take a moment for a gut check.  Have you ever felt this way yourself?  When was that?  What happened?  Are you still using this excuse?  What could your life be like if you decided to stop using this excuse?]
Mark Twain made bad business decision after another and eventually QUIT on investing.  Then, he chalked it all up to "luck".
THERE IS NO LUCK IN GETTING WEALTHY—IT'S NOT AN ACCIDENT.
Get with the right people and,
invest in yourself first so you can
Plan of attack moving forward:
Earn a good income:  USE Cardone University [CLICK HERE for free access]
Keep it!  Do not blow it:  STUDY The Millionaire Booklet.
Multiply your money:  LEARN How to Create Wealth Investing in Real Estate.
The Speculation Dangers and Mark Twain Bottom Line:  You need to get the right advice from the right people and don't make BAD business decisions.
Twain once said, The difference between the right word and the almost right word is the difference between lightning and a lightning bug.
The same is true with business and investment decisions. The difference in your bank account between the right decision VS an "almost" right decision is the difference between success and failure.